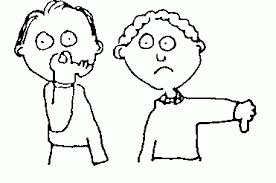 The G.J. Chamber says it's mission is to promote business, but that means just some businesses — the ones it likes. At the May 1, 2013 City Council meeting, Councilman Jim Doody told the audience he represents the City of Grand Junction at the Chamber's meetings, and that only a single narrow political point of view is ever presented at their meetings.
This is not a mistake.
History reveals that the G.J. Chamber subtly manipulates its membership to assure dissenting political viewpoints are minimized. How?
The chamber regularly solicits members by conducting "Business Walks" in which chamber representatives physically visit hundreds of local businesses to promote Chamber membership.  But once a business owner joins the Chamber, he or she must agree politically with Chamber leadership, or at a minimum not actively promote any competing political views, or risk getting kicked out.
Rub You or Snub You?
Business owners who don't share the same political opinions as chamber leadership are either not invited to join the chamber, or if they do manage to join, risk being ejected by chamber Director Diane Schwenke if they voice their opinions.
Such was the case in 2008, when Ms. Schwenke personally kicked out the local environmental group, Western Colorado Congress (WCC). Ms. Schwenke said she ejected WCC because they had "competing philosophies" and were too political. WCC was a legitimate, dues-paying member of the Chamber. The owner of a long-established Main Street business who occasionally flies peace flags in front of his store reported that even though he's operated his store in a prominent central location on Grand Junction's Main Street for decades, and even though the chamber actively solicits membership from hundreds of businesses each year, the chamber never once approached him for membership. In the summer of 2013, after this information was exposed in the local newspaper, the chamber sent someone to his store and asked the owner if he would like to join. By that time, though, so much public anger had built up in the community against the chamber that being a member had become more of a liability than an asset.
Chairman's Circle of Shame
The following companies are Chairman's Circle-Level members of the Chamber, meaning each of these companies pays $6,000/year to the Chamber. If these companies all quit the Chamber and donated their membership fees to the Food Bank of the Rockies instead, they would provide 240,000 meals for hungry people in our area. If they donated their membership fees to Kids Aid, they would provide 468 hungry local school children with enough food to help them make it through an entire year without going hungry.