The following local businesses do not belong to the Grand Junction Area Chamber of Commerce. We provide this directory as information, to help people decide where they want to shop. Thank you to all the businesses who have contacted us asking to be added to this list!  Want to be our Featured Non-Chamber Member Business? Just contact us using the "Tell Your Story " link and ask! It's completely free!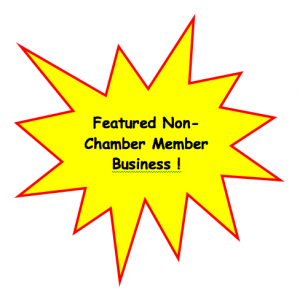 (List updated April 23, 2019 – new business are added frequently!)
To Search for a product or service: To search for a specific type of business, product or service hit "CTRL+F " or "Command+F" on your keyboard and then enter a keyword for the type of item or service your are looking for, e.g., "carpet," for carpet sales or cleaning, "plumbing" for plumbing service or contractors, "CPA" for accountants, "boarding" for pet boarding services, "yoga" for yoga studios, etc.
626 on Rood Modern American Cuisine and Wine Bar
7th Street Deli
72 Degrees Cooling
Advanced Roofing
A-1 Roofing
A Wise Choice Design and Flooring Center
Aaron Wolf Carpet Cleaning
AAA Automobile Club
ABC Mechanical Air Conditioning, Heating & Plumbing
ABC Storage
Able Roofing
Abstract and Title Co.
Abundant Health LLC (Chiropractic, acupuncture and massage)
AC Beaver Enterprises Lawn Maintenance
A Cut Above Tree Services
A-Maes-ing Landscape Design
A World of Tile
Academy of Self Defense Family Martial Arts Center
Ace Automotive
Adcock Concrete
Adakirky Imports
Advanced Hearing Aid Center
Advanced Pest Solutions
Advanced Refrigeration, Heating and Air
Advanced Skin Care
Adult-Adolescent Alcohol Treatment
Ads Refrigeration LLC
Aesop's Gables Custom Kitchen & Bath Design
Affordable Hearing
AG Edwards & Sons
Airstream Plumbing and Heating
Airtech Refrigeration
Aladdin Carpet Cleaning
Alan's Land Surveying
Alexander's Beauty Salon
All American Coin and Jewelry
All Metals Welding
All Sports Honda
All Storage
Alles Hardwood Flooring & Remodeling


Allure Salon & Spa
AllTemp Services, Inc.
Alpha Center
Alpha Dance Studio
Alpha Towing and Recovery LLC
Alpine Carpet Cleaning
Alpine Custom Electronics
Alpine Floor Coverings
Alpine Tree Service
Alta Painting & Coatings
Alterations by Carla
Alterations by Kim
Amaidzing Cleaning Service
American Eagle Outfitters
American Home Shield
America's Best Contact Lenses and Eyewear
Amber Floral and Lil' Ole Winemaker
American Eagle Auto Body Repair
American Rental Specialties
American Turf and Tree Care
Amico Plumbing, Cooling, Heating & Solar
American Rental Specialities
America's Mattress
Amerigas Energy
Amway Global Grand Junction
Andy's Carpet Service (cleaning)
ANewU Salon
Angel Signs
Annie's Nails and Spa
Apeiron Utility Construction
Apex Body Piercings
Apex Tattoo
Applebee's
Appliance Parts Plus
Area-Wide Chem-Dry Carpet Cleaning
Arby's
Armed Forces Career Center
Armstrong Air
Artful Cup Coffee
Artisan Contracting
The Artist's Haven
Ascent Salon & SpaAugusta's Tea Room
Audiology and Hearing Aid Center of Grand Junction
Audrey Barrett Acupuncture and Oriental Medicine
Auto Zone
Avalanche Heating and Cooling
Azteca's Mexican Restaurant
B & B Storage
B & F Distributing, Inc. (janitorial supplies)
Back to Health Chiropractic
Back Porch Music
Baker Hughes
Bank Billiards
Bark and Meow Pet Groomers
Barnes and Noble Booksellers
Barney Brothers Off Road
Barnes and Noble Bookstore
Bed, Bath and Beyond
Beans About Beans
Behavioral Health and Wellness Center
Bemis Electric Co.
Benchmark Real Estate
Ben Franklin Plumbing
Berna B's Restaurant
Best Buy
Best Paw Forward pet grooming
Best Tops Countertops
BeYouTiful Nail Studio
Big League Haircuts
Big Lots
Big Willie's Garage
Bimbo Bakeries
Bin 707 FoodBar
Bicycle Outfitters
The Bicycle Studio
Big J Jewelry and Loan
Big Lots
Bill Burke's 4-Wheeling America
Billie Castle, LLC, attorney at law
Bing Lee Acupuncture Clinic
Bishop Welding
Bliss Salon and Day Spa
Blondie's Salon
The Blue Pig Gallery (Palisade)
Blue Heron Yoga
Blue Sage Acupuncture
Board and Buckle
Bob Scott RVs
Bocas Venezuelan Grill
Bocaza Mexican Grill
Bookcliffs Bed and Breakfast
Boost Mobile
Bull Creek Outfitters
Bull's Eye Grease
The Boot Barn
Brandy's Cleaning Service
Brenda's Hair Styling
Brewed Awakenings
Brien and Sandy's Grooming
Bright Smiles Family Dental Care
Brown & Brown, P.C. (attorneys – wills estates, trusts, taxes and long-term planning)
Brown Cycles
Brown's Shoe Fit
Bruce Birr, CPA
Bud's Signs
Bunbury Bags
Burger King
Cafe Rio Mexican Grill
CalFrac Well Services
Canyon Convenience Stores
Carpets Done Right
C&D Fencing, LLC
C & N Lawn Services, LLC
The Cake Cottage
Calamity Jane's Tattoos
California Closets of Denver
Cameo Hair Styling
Cameron
CandyTime Shoppe
Canyon Electric
Canyon View Surgery Center
Capco Tile and Stone
Carl A. Feghali, DDS
Carl's Plumbing Master Plumber
Carniceria Sonora Meat Market
Carmike Cinemas
Carols' Oriental Foods
CarQuest Auto Parts
Car Tunes Auto Sales
Century 21 Homestead Realty
Changes Appearance Studio
Champion Boots and Saddlery
Champion Technology Services
Chem-Dry Carpet Cleaning
Cherry Berry Frozen Yogurt
Chick-Fil-A
Chili's Grill and Bar
Chipotle Mexican Grill
Chiropractic Family Health Center
Choice Services Tile Roofing
Chopstix Express Chinese Food
Chow Down Pet Supply and Grooming
Christian Brothers Realty
Christie's Hair Salon
Christopher Lepisto, ND (Naturopathic medicine)
Chuck's Marine
Ciavonne, Roberts & Associates Landscape Design
Citrola's Italian Restaurant
Clarkland Motors
Cleaner Carpets by George
Clean Sweep Chimney Sweeping and Installation
Clifton Animal Hospital
Clifton Commercial Center Mini Storage
Clothes Closet
Cobwebs
Colorado Baby
Colorado Chiropractic & Muscle Care – Active Release Technique – Bryce Christiansen, D.O.
College Liquors – 12th and Patterson
Colorado Customs
Colorado Legacy Coffee Roasters
Colorado Tai Chi
Colorado West Enterprises (wood burning stoves)
Colorado West Family Dental
Columbine Animal Hospital
Comfort Dental
Commercial Fence and Ironworks
Commercial Refuse Service
Complete Landscaping
Conchita's Mexican Restaurant
Consign Design Furniture Store
Cookies By Design
Cost Cutters
Coppersmith Plumbing, Inc.
Copy Copy
Correct Cut Tree Services
Cost Cutters
Cottonwood Vet
Country Ceramics and Gifts
Courtney's Critter Care Pet boarding/pet sitting
Country Elegance Florist
Countryside Services
Cowboy and the Lady
(Dr.) Craig M. Jones (chiropractic, acupuncture)
Crazy Woman House Cleaning
Crested Oak Dentistry
Critical Nurse Staffing
Croc's Footwear
Crossfit Junction
Crossroads Dental
Crossroads Wine and Spirits
Cruz N Music Machine
Crystal Books and Gifts
Culinary Corner
Curbside Recycling Indefinitely
D & G Auto Care
Dan's Auto Sales
Dan's Towing
DanceWorks
Dailey Painting
Dairy Queen (all locations are non-chamber members)
Dalton's Autos
Danceworks
Dave Fisher Electric
Dave's Handyman Service
David's Bridal
Dawn M. Rosier, CPA
Daylight Doughnuts
Deep Rock Crystal Drop Water
Deep Valley Homes Painting, Maintenance & Repair
Denny's Restaurant
Denim Clothing Store
Dependable Lawn Care Service
Desert Bloom Hydroponics
Desert Sun Medical Center
Dependable Lawn Care
Diamond Carpet Care LLC
Diamond Cast Concrete
DiGrado's Painting & Maintenance
Diorio's Pizza
Discontent
Discount Tires
Diversity Mechanical and Home Improvement
Dollar Tree
Domino's Pizza
Dottie's Home Consignment
Double D Services Appliances, Heating and Refrigeration
Double Diamond Plumbing
Douglas A. Colaric
Down Under Faux residential & commercial plaster finishes
Dreamcatcher B&B (Palisade)
Dress Barn
Drop Zone Pack and Ship
DSA Electric, Inc.
Duane Phipps Welding and Fabrication
DW Metal Works
E-Bricks Lego Outlet Store
Eagle Fencing
EC's Asian Station
EC Electric, Inc.
Edgewater Brewery
Eastgate Liquors
Eastgate Vacuum Company
The Egg and I Restaurant
Ekahi Grill Hawaiian cuisine
El Tapatio Mexian Restaurant
Ellis CPA Firm, PC
Elite Towing
Encore Shop & Gallery
The Endoscopy Center
EnviroChem Analytical, Inc.
Envision Sign and Graphics
Era Murphy Real Estate
Eric Mosby State Farm Insurance
Evergreen Tree Service
Excel Fire Protection
Estilo's II A Salon
Fairmount Eye Care
Family Auto and Truck Center
Family Counseling Center/Adult-Adolescent Alcohol Treatment
Family Dollar
Fancy Nancy's Cleaning Service
Fantasy Junction
Fashion Junkie and Fashion Junkie Kids
Fella's Barberhop
Ferguson Beauregard Inc.
Ferrin Square Plumbing and Heating
Fiesta Guadalara
The Finish Line
Fireplace West
Fist Impressional Professional Window Cleaning
Five 60 Salon
Flexpipe Systems
Floor Tech flooring installation
Flowers by Lorraine
Fly'n Roosters
Focus Technology Group, Inc.
The Foot Locker
Footprints Animal Hospital
Fruita Wood Chunks
Fruitvale Liquors
Four Winds Coffee & Tea
The Foreign Aid Auto Repair
Fresh Salon
Fruita (the City of Fruita)
The Fruit Basket
GameStop
Garda Cash Logistics
Garfield's Restaurant
Gelato Junction
G & G Medical Home Oxygen
Genghis Grill Mongolian BBQ
George T. Sanders Plumbing and Heating Distributors
Get Air at the Silo Jumping Center
Girardi's Towing
Girlfriends
Glacier Ice Arena
Glam Salon and Spa
Global Nitrogen Services
Golden City Chinese Food
Golden Tamarack Acupuncture LLC
Goldmine Bingo
GolfTec
Goodwill Retail Center
Gordon Gallagher (attorney)
Grand Central Liquors
Grand International Buffet
Grand Junction Counseling
Grand Junction Harley-Davidson
Grand Junction Laboratories
Grand Junction Therapies
Grandma's Attic
Grand Mesa Graphics and Printing
Grand Mesa Landscape Maintenance
Grand Mesa Mechanical
Grand Mesa Media
Grand River Electric
Grand Valley Books
Grand Valley Catholic Outreach
Grand Valley Foods
Grand Valley Lasik & Cataract
Grand Valley Production Services, LLC
Grand Valley Telecommunications
Granite Imports
Graystone Group Real Estate
Graystone Winery
Grease Monkey on Patterson Road (the others are Chamber members)
The Great Frame Up
Grey Eyecare (Dr. Allen Grey, Opthamology)
Greyhound Bus
Griff, Larson Laiche & Wright Attorneys
Griffith Electric, Inc.
Griffith Plumbing & Mechanical Services LLC
GVF Wholesale and Distribution (restaurant supplies)
Haggle of Vendors Emporium
Haining Plumbing
The Hair Loft Styling Salon
The Hancock Group, LLC (CPAs)
Hans Kunze wall coverings, custom painting & drywall texturing
Harris Equine Hospital (horse vet)
Harshman & McBee (attorneys)
Hastings
HaveCooker.com (Have Cooker Will Travel BBQ Catering)
Haven Tatoo
Hays Plumbing
Hey Sweet Cakes!
HBJ's Grooming
H&R Block (32 Road branch)
Healing Horizons
Hearth 'n' Home Products
Heirlooms for Hospice
Henni Fencing
Hensley Battery & Electrics Grand Junction
Herberger's Department Store
Heritage Masonry LLC
Hertz Rent-A-Car
High Country Gas and Supply – welding
High Desert CPAs
High Desert Landscaping and Yard Maintenance
High Desert Realty
High Grade Concrete and Excavation
Hill and Homes Real Estate
Hobby Lobby
Holman House Furniture
Hollywood Clips
Home Appliance Repair and Sales
Home Depot
Homemade Design (fixed fee interior design)
Honeybaked Ham
Hookah Loungs
Horn O' Plenty
Hose and Rubber Supply
Hot Streaks Salon
Hot Yoga
House of Marble, Inc.
Hudson Family Dental
Image Design Laboratories
Imelda Mulholland (attorney)
Inari's Bistro (Palisade)
Industrial Screen and Maintenance
Innerquest Hypnotherapy
Innovations Salon & Day Spa
Inside Out Professional Painting
Inside Story Carpet One
Integrity Auto Repair
Interiors, Etc.
Intermountain Auto Sales
Iron Specialities, Inc.
The Hot Tomato (Fruita)
Java Junction
JC Penney
JCP Fiberglas Boat and RV Repair
J & G Tree Services
Jerry's Outdoor Sports
Jill Whinnery, Medical and Health Massage Therapist, downtown Grand Junction
Jitterz Coffee Hut
J Lock & Key (Locksmith)
Jo-Ann Fabric and Craft
Johny's Beer and Liquor
Jolley Smiles
Journey for Wellness
Journeys
J & S Fence Company, Inc.
Junction Auto Body
Junction Bell Federal Credit Union
Juniper Family Medicine
Junction Floor Tech – Carpet, Tile and Laminate Installation and Repair
K2 Taxi
K9 Kar Wash – self-service dog wash
Kangaroo Express Delivery Service
Katz Auto Repair
K-Mart
K Nails
Kent News Company
Key Realty
Kick the Bucket Tile and Carpet Cleaning
KidsPlex
Killian Davis Richter & Mahle (Attorneys)
Kissin Kate's Roadhouse Diner
Kitty Condos Luxury Cat Boarding
KJCT-TV Channel 8 (ABC affiliate)
Knight's Construction
Kohl's Department Store
Kokopelli Health and Wellness
Kuniko's Teriyaki Grill
Kwal Paints
La Bamba Mexican Restaurant
LaCroix & Hand, P.C. (attorneys)
Lady Di Hair Salon
The Landscape Center
Lane Bryant
Larkspur Refrigeration and HVAC
Larsen Dental
La Quinta Inn and Suites
Laughing Dog Coffee House
Lead Foot Linda's auto repair
Learning Works
Le Baron Insurance Agency
Le Med Spa
Leon's Mexican Restaurant
Levi's Custom Tile & Stone
Liberty Storage
Liberty Tax Service
Lincare
Linda Wells Massage Therapy
LiquiGreen
Loncheria Rubi (Food truck by Sprouts)
LOOK! On Main Street/Bookcliff Vision
Loree's Restaurant
Los Jilbertos Taco Shop
Los Perez Taqueria and Bakery
Lupita's Bizarre Bazarre
Los Reyes Mexican Restaurant
LV Spa and Nails
Mad Margaret's Costumes, Shoes and Vintage clothing
Maid in Heaven cleaning
Main Street Bagels
Main Street Cafe
Main Street Minerals and Beads
Marmot Library Network
Mary's Restaurant on Orchard Mesa
Massage Store
Mavis Construction
Maxine's Beauty Salon
McAlister's Deli
Meadowlark Gardens
Mercer Automotive
Merle Norman
Mesa Behavioral Medicine Clinic
Mesa Family Practice
Mesa Jewelers
Mesa Music
Mesa Optical
Mesa Pawn and Loan
Mesa Production
Mesa Theater
Mesa Truck and Trailer Repair
Mesa View Assisted Living
Mercer Automotive
Metal Industries
Michael's Craft Store
Midas Auto Service
Miracle Ear
Mobile Sleep Diagnostics, LLC
Monument Garage Door
Monument Clean Fuels
Monument Oil
Motel 6
Motion and Flow Control Products
Mor Storage
Morris and Tonsfeldt CPAs
Mount Garfield Greenhouse & Nursery
Mountain States Welder Repair
Mountain Storage
Mountain West Dermatology
Mr. Cobbler Shoe Repair
MS Energy Services
Myron's Welding
Nancy's Eyebrow Threading
National Pump and Compressor
Natural Grocers
Natural Health Chiropractic
Naughty But Nice
Neat and Clean cleaning service
Neat and Tidy Cleaning
Nepal
Nightlife Billiards
New Life Chiropractic
New Traditions Furniture
The Nickel Classified Ads
North Avenue Car Wash
North Avenue Liquor Store
Oakley Gallery
Okagawa Farms
Old Chicago
Old Navy
Old World Meats
One Hour Heating and Air (HVAC)
Oopsie Poopsie Dog Doo Pickup Service
The Optical Center, Inc.
Oral Health Partners
Orchard Mesa Greenhouse (Palisade)
Orchard Mesa Veterinary Hospital + pet boarding/sitting/kennels
Orr's Trading Company
Orval's Grooming (pet groomers)
Osborn Cabinets
Outlaw Cafe
Over the Edge Sports
Pablo's Pizza
Palisade (the Town of Palisade)
Palisade Brewing Company
Palisade Car Wash
Palisade Group DBA Heartland (Business development)
Palisade Veterinary Clinic
Palomino Motel
Pangallo Tax and Accounting (CPAs)
Papa Kelsey's Pizza
Par Electrical Contractors, Inc.
Parker Machine Shop
Patsantaras Lath and Plaster (stucco)
Pattie's Tiny Cakes
PayLess Shoe Source
Peachwood Liquors
Performance Chiropractic
Pepsi Bottling Co.
Petco
Peters and Noland, LLC (attorneys)
Petsmart
Petco
Pete's House of Spirits (liquor)
The Phone Zone cell phone repair
Pilates Space. LLC
Pinyon Chiropractic
Pizza Hut
Planet Earth and the Four Directions Gallery
Planet 9
Platinum Properties
Platinum Signs
Platinum Towing
Playstation
The Point restaurant
Pollo Asada
Pollux
Praxis East Olympic Weightlifting Center
Precision Lawn Care
Preferred Health Care
Preferred Homecare
Premier Property Management
Professional Stucco and Stone
Pro Dirt
Pro Ship and Copy
Pro Towing
Professional Lawn Care
PS Homecare
Psyched on Main
Pufferbelly Restaurant
Quadco Oil Field Sales and Service
Quality Garage Door
Quality Meat
Quality Pools and Spas
Quality Stucco West
Qualtire Plumbing
Quincy Bar
Radio Shack
Rainbow International Carpet Care and Restoration Specialists
Raise 'N' Glaze Doughnuts
Randy J. Rottman Opthamology
Rave
Raven Ridge Resources
The Raw Canvas
Redlands Canyon View Car Wash
Redlands Pet Clinic
Redlands Pet Groomers
Redlands Upholstery
Red Lobster Restaurant
Red Mango Frozen Yogurt
Red Robin Restaurant
Red Rose Floral
Red Rose Restaurant (Palisade)
Redlands Liquors
Redlands Painting and Contracting
Redstone Vet
Regal Cinemas
REI Sporting Goods
Reliant Roofing
Revolution Salon
ReMax 4000 Realty
Rem's Place
Rembrandt by Mike, Inc. Painting
Rent-A-Center
Ribber Barbeque and Catering
Riegles Mechanical
Rimrock Truck Center
Rite Aid
River City Bagels
Riverside Towing and Recovery LLC
Roasted Espresso & Subs
Robert Sprague Plumbing
The Rock Shop (landscaping supplies)
Rocky Mountain West Insurance
Rock Water Energy Solutions
Rodeway Inn
Roice Hurst Humane Society
Roots Salon
Ron Brown Welding
Roper Music
Rosewood Floral
Ross Dress for Less
Royal Restoration & Cleaning
RS Steel
Ruby Canyon Cycles
Run That Hound dog walking/pet boarding kennels
Rummel Electric
Running Outfitters
Rupp Electric
S & M Auto Bady Detailing
Saenz Roofing
Sally Beauty Supply
Salon Capelli
SalonCentric Professional Beauty Partners
Salon PazzoBello
Salon Professional Academy
Sanders Hose & Fittings
Sang Garden Chinese Restaurant
Sanitary Supply Corporation, Inc.
Scuba Shack
Sears
Sears Portrait Studio
Seasons to Follow Gift Baskets for All Reasons
Seeds of Revolution
Seibu-Kan Karate Studio
Serenity Salon & Spa
ServPro of Grand Junction Fire & Water Cleanup/Restoration
Shabby Chic
Shannon Optical
Shape Medical Center
Shear Magic Styling Salon
Sherman Williams Paint
Shingleworks Roofing
Shoe Carnival
Shoe Design – certified pedorthist
The Shoe Man
Shingleworks Roofing
Shred by Ed
Sieckert Electric
Signature Nails
Simplicity Solar
Simply Clean Laundromat and Laundry Service
Simply Mac
Simply Service Professional Plumbing, Heating, AC, Swamp Coolers, New Construction and Remodel Work
Sinclair Gas Stations
Skin Deep
Sleep Number (mattresses)
Slice of Life Bakery (Palisade)
Small Wonders Early Learning Center
Gary R. Smith Productions
Smoke Shack
Smoker Friendly
SOAR Physical Therapy
Sonic
Sooper Credit Union
Sound Stage (auto stereo)
Spatafora Chiropractic
Specialized Stump Removal
Spencer Gifts
Spin City
Spine and Injury Center of Grand Junction
Spoons Bistro and Bakery
Sports Authority
Sprague Handy Services
Sprouts Farmers Market
Sportsmans Warehouse
The Sprinklerman
Starvin' Arvin's
Starbucks (all Starbucks Coffee houses are non-Chamber members)
Stepping Stones Children's Center
Stick It Decals
Still Smokin'
Stone Mountain Systems, LLC Computer Specialist
String Embroidery and Screen Printing
Studio 8fifty8 Salon
Sturgeon Electric
Studio 8 Salon and Spa
Sugar Shack
Subway (all locations)
Suehiro Japanese Restaurant
Summit Canyon Mountaineering and Sporting Equipment
Summit Aire, Inc.
Suncor
Sundance Marine
Sunglass Hut
Sunshine Painting Corporation
SunWest Construction
Super Cuts
Superior Body Shop
Sushi and Rok Japanese Restaurant
Sutherlands (hardware)
Symbiosis LLC
T4 Tree Services
Talbott Farms, Inc.
Tangle
Target
Taqueria Guadalara
Techna Glass
Teller Arms Liquors
Terminix Pest Control
Tequila's Mexican Restaurant
Thai Chili Restaurant
Therapy Works
THF Realty
ThoughtOnBoard.com – dry erase boards that stick to glass facing out
Timberwolf Carpentry & Drywall
Tire Distribution Systems
Titan Carpet and Vinyl Flooring
TJL Copy Products
TLC Grooming by Danielle
Toys for the Fun of It
Trade Center Auto Salvage
Traders Coffee
Trees-R-Us
Trigger Fence Accessories
Trinity Carpet Care
Triple Play Records
True Value Hardware on 12th and Orchard (ONLY the one on 12th and Orchard)
Tuesday Morning
Turnkey Consulting
Twice Upon a Time Bookstore
Twin Crosings Unique Furnishings
Two Rivers Center for Spiritual Living
Two Rivers Dental Center
Ultra Bond Auto Glass Repair
Underdog Home Service & Small Engine Repair
Uniform Junction
Unique Expressions Gift Shop
Unique Street Salong
United States Welding
Uptown Consignment
Urban Girls Salon
Valerie Kennedy general housekeeping
Valero Corner Stores (gas and convenience)
Valley Auto
Valley Grown Nursery
Valley Home Improvements
Valley Vision Center
Valleywide Fencing
Valvoline Instant Oil Change
Van's Car Wash (all locations)
Veale Insurance
Veterans Memorial Cemetery
Viaggio Salon
Village Optique
Vine Yoga
Vision Source
VisionWorks
VNL Appliance Service Center
Voodoo Circus Tatoo
Wagner Garage
Walsh Environmental
Wash Time Laundromat
We Kare-a-Lot Preschool
Wedel Pottery (Palisade)
Wedding-Veil.com
Weight Watchers
Wendy's (on North Ave. and U.S. Hwy 6 only)
Western Anglers
Western Colorado Botanical Gardens
Western Colorado Congress
Western Colorado Fruit and Produce
Western Colorado Lung Center (Pulmonologists)
Western Filament
Western Importers
Western Neon Signs
West Park Truck Equipment
Western Rockies Eye Center
Western Slope Aquatic and Pets
Western Slope Driving Institute
Western Slope Pest Control
Western Slope Seamless Gutter
Western Slope Wheels and Deals, Inc.
Wienerschnitzel
Wiggy's Outdoor Gear and Sleeping Bags
WildFlour Coffee Shop, Bakery, Sandwiches, Subs
Willaim A. Kelley, M.D. (Pulmonology)
Wizard of Paws Pet Grooming
Wolcott LLC Mineral Land Services
WoodenToy
Woodstove Warehouse
Work Partners Occupational Health
Woven Designs
WRW Log Works
WW Peppers Restaurant
Yanowich Studios
Yes! Dental
Yoga Vinyassa
Yoga West
You Sell Auto
Your Best Friends Boarding Kennel
Your Screen Printing and Sign Company
Zen Garden Restaurant
Zephyr of Grand Junction